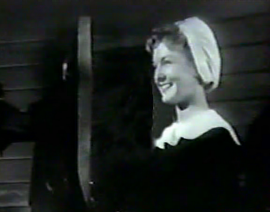 Kathryn Beaumont appeared in
"The Voyage of Captain Tom Jones, Pirate"
starring Louis Heyward, which aired on November 21, 1955 on the ABC-TV Network. This TV show was part of the series
" TV Reader's Digest ."
The show dramatized articles
that had been published in the magazine.
u Prior to the publication of this webpage in April, 2005,
this appearance was not well-known
and did not appear in published filmographies.


u Kathryn appeared on the series just this one time, but her Disney colleague Bobby Driscoll guest-starred three times.
u This is Kathryn's only known post-Disney
on-camera work from the 1950's. Kathryn plays the role
of Priscilla Mullins, a Puritan on the Mayflower.

u The excerpts shown here comprise virtually all of Kathryn's scenes on the show.


"A Pretty wench, that one,
eh, barrel maker?"