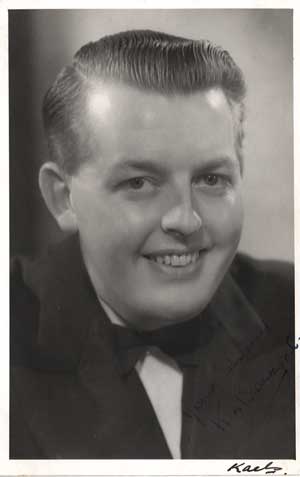 According to The British Dance Band Encyclopedia, Kathryn's Dad,
Kenneth Beaumont, recorded just a few sides as a vocalist

.

Ken worked with Larry Brennan (from April - July 1934), Joe Orlando (March - October 1937), Henry Hall (on guitar, not vocals- April 1939), Oscar Rabin (January 1941) and Billy Ternent (1943-44).

He also led his own group, The Ken Beaumont Sextet, for the BBC.

Kathryn's father also did a voice for "Alice In Wonderland. " He can be heard as one of the playing cards rushing to paint the queen's roses red.

Presented here: compelling evidence that Kathryn inherited her vocal talent. These songs (In RealAudio) were recorded by The Billy Ternent Band and feature Ken Beaumont vocals.