Disney
had two young stars under contract in the early 1950's - Bobby Driscoll and Kathryn Beaumont.

In "Peter Pan" (1952), Driscoll would voice the title character - while Beaumont would portray Wendy Darling.

Bobby Driscoll had appeared in Disney's "Song of the South" in 1946, "So Dear To My Heart" in '49, and gave a memorable performance in "Treasure Island" in 1950 at age thirteen.

Early in 1950, someone in the publicity department at Disney must have decided that the two youngsters should go out on a "date" accompanied by a studio photographer.

The results were presented in the September 1950 edition of Movie Life magazine.
Movie Life titled the photo spread "In Wonderland."

"English-born Kathryn Beaumont, who was the voice of 'Alice' in Disney film, sees sights of California Wonderland with Bobby Driscoll."

That's the sum total of the "article." The rest is photo captions.

Caption for the photo at right: "Next best to visiting Ciro's at night is a look at the spot by day. Voice of Disney's Alice in Alice in Wonderland was enchanted."

Some date: Bobby takes Kathryn to a restaurant that's closed? Bobby (or, more accurately, the Disney PR person that dreamed this up) had an odd idea of what makes for a fun date!

Wait... it gets worse.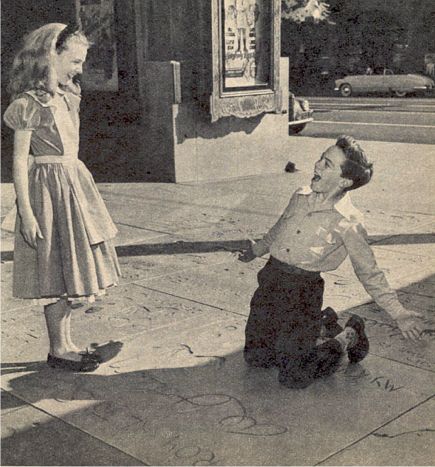 "What tour
would be complete without a look at the forecourt of Grauman's Chinese Theatre," Movie Life rhetorically asks, "with its footprints of all-time greats in films."
And what better way to embarrass your "date" than to drop to your knees when you reach the portion of the forecourt signed by Al Jolson... and belt out a few bars of
"Toot-Toot-Tootsie?"
Clearly, Kathryn and Bobby were "good soldiers" when the Disney organization asked for publicity assistance. For Kathryn, the combination of always having to wear the Alice dress... and having to endure situations like this one must have sorely tested even the most deeply-ingrained English manners.
Another stop on the tour,
according to Movie Life, "...was the La Brea tar pits, made famous by radio comics. Here Bobby shows Kathryn plaster replicas of the huge pre-historic monsters found buried in tar."

Could Bobby's interest in (and knowledge of) tar date back to a 1946 movie role?

In Song of the South, James Baskett, as Uncle Remus, tells Johnny (Driscoll) the memorable story of "Bre'r Rabbit and the Tar Baby."
Movie Life caption:

"A little young, maybe, but Kathryn had heard about Fern Dell in Griffith Park, a famous trysting place. Ah, for that fairy Godmother; she'd like to be grown up!"