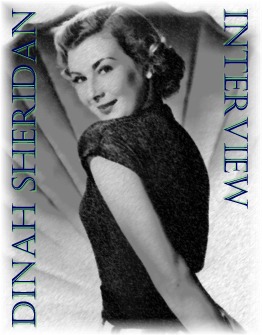 An audio interview with the charming and talented
Dinah Sheridan
A new half-hour interview with the delightful Dinah Sheridan, recorded July 2000. Dinah recalls the trials and tribulations of cast and crew in the filming of "Genevieve."


Click Here to listen in RealAudio
Click Here to listen in MP3 format

HOW TO LISTEN: You need either RealPlayer or an MP3 player to listen.
If you need a player, you can download one for free from RealAudio.
RealPlayer 8 Basic is free and will play either version of the interview. Look for the download button at the bottom of the page.

Eleanor Dugan's excellent biographical sketch of Dinah can be found here.
"Genevieve's" Dinah Sheridan toured as Wendy in the British touring production starring Betty Marsden in 1934-35.
In a 1936-37 touring production, Dinah played the title role (Dinah may well be the only actress that has played both Wendy and Peter). Dinah can be heard as Wendy in the 1939 His Master's Voice recording, playing Wendy to Jean Forbes-Robertson's Peter Pan.